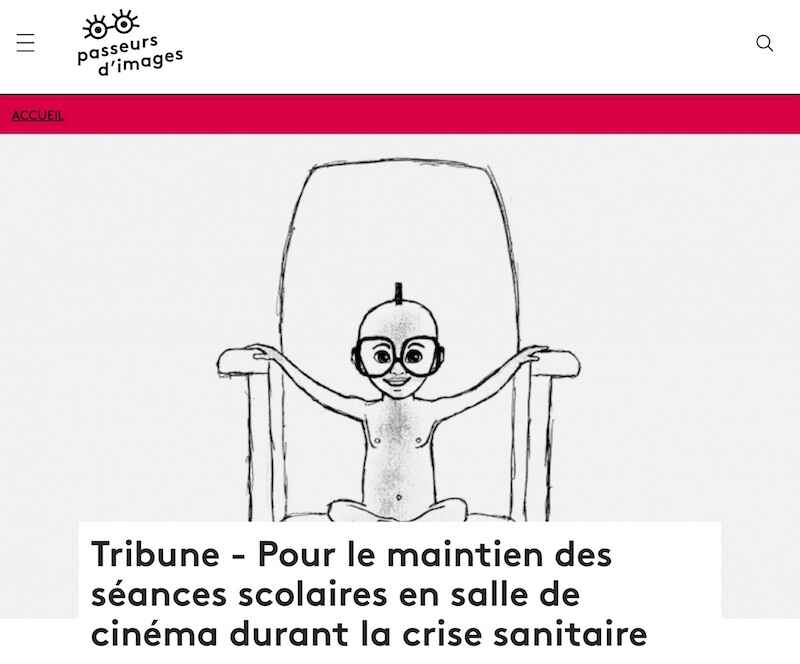 Forum - For the continuation of school screenings in cinemas during the health crisis.
Michel Ocelot joins the signatories of the forum, published by the association "Passeurs d'images" :

Madam Minister of Culture, and Mr. Minister of Education,
Cinema is an art that must be discovered indoors.
Each year, thanks to programs such as School and Cinema, High School Students and cinema and Apprentices in Cinema schools, over two million young people from primary schools or high schools are taken to movie theaters and discover cinematographic works that they have never seen before and would never go see on their own, in a unique setting.
Taking students to see films in movie theaters may seem common, but it is a strong political act, an act of citizenship, an act of resistance. It has become even more meaningful following the tragic events that took place not long ago and which greatly unsettled the educational community. In a world where fractures seem to get worse every day, schools still "welcome everyone".
Going to a movie theater involves a communal experience during which young minds can share emotions that opens them to freedom of expression. They can learn to decode cinematographic language and acquire a critical mind, which is essential to every citizen.
Cinema education systems are part of the overall economy of cinema. They generate revenue for movie theaters, distributors, artists and lecturers who support the movie performances and are a pathway to the discovery or art. Endangering those systems would endanger all of those key players who are passionate, committed, and essential.
As our fellow citizens face an unprecedented health crisis, the government to which you belong has decided to keep primary schools and high schools open to ensure the continuity of our children's education.
The verb educate is a marvelous word and comes from the Latin "ex-ducere", which could be translated as "to guide outwards". Our work, our mission, our duty, is to continue to guide children outwards, to continue to open the doors of cinema to them.
We ask you to confirm to all audio-visual professionals and to the educational community that movie theaters, in accordance with the health protocols they have put in place, can accommodate school audiences. We also ask that the theaters which do not have the economic capacity to maintain part of their activity, benefit from exceptional support in order to carry out these film screenings for schools.